Concrete Polishing Sydney
Grind and Seal Polished Concrete Flooring
The concrete polishing Sydney process is the latest generation of soils, it is a very fast working system that needs no wax. Thanks to recent technological advances on the polishing floors Sydney, workers now polish the floors ordinary concrete or cement, both new and old, with similar results finishing in marble and without the aid of waxes, varnishes, resins or coatings that may delaminate and be consumed over time. A polished concrete floor coating provides an extremely durable, high quality, similar to natural stones like marble or terrazzo, but with much greater hardness because it has a high resistance to wear.
Accordingly polished concrete floor has become very popular in places with high traffic because it provides an easy-care surface. This method generates a very flat surface and steady, aesthetically beautiful and adorable, ideal for industrial and commercial purposes. The flat surface is much lower grip that checks on the wheels of the truck, which reduces the need for handling on consumable parts such as tires and transmission.
The absence of electrical insulation blanket reduces stress on electronic components caused by ESD disorders: comforts on the workplace are greater for workers. Problems due to the deep stains of tires on soil epoxy resin disappear because Great land Stone and tiles does not retain the tire tracks (that is why the floor can be kept clean with minimum effort and ecologically). Most hardness and polished concrete floors delivery was appreciated in stores and factories, in offices, in restaurants, at car dealerships, garages, in the exhibition halls and in homes, thanks at low cost, the floor polishing Sydney in long life, high abrasion resistance and high gloss. With this system, the soil becomes up to 8 times harder and resistant by using the special product Concrete Hardener. Read some more benefits of polished concrete floors.
Concrete polishing Sydney benefits:
• Easy to clean because dirt does not penetrate the substrate.
• Resistant tire marks and impacts.
• Resistant to chemicals.
• Non-slip surface.
• Reduced to almost 100% dust from the concrete slab.
• while facilitating the rolling carts Removes small dents in the floor and imperfections ,
• Provides a better environment – polishing increasing the refraction of light by 30%.
• Ability to add color to an even more attractive Possibility to add color, even more aesthetics
• No waiting period for the use of floor
• lower cost than other flooring
• No fumes from C.O.V.
• Provides harder and more lustrous surface giving a wet look appearance.
Concrete Polishing Sydney can be done on a new concrete surface (who completed his cure 28 days minimum) or an existing surface. All concrete surfaces are porous, the polishing then transforming them into compact concrete which makes the surface of the incredibly bright ground (similar to granite ) . The concrete floor polishing Sydney technique in question is to close the pores of the concrete, which has the effect of preventing the generation of dust. The surface becomes harder, more abrasive resistant, waterproof and also easier to clean.
The method employed by ARTSONE Flooring Concrete polishing Sydney reaches full maturity after a few months to get the combination of chemical and mechanical action, so get to the final result. In addition, it is important to note that the reaction in question is not visible to the naked eyes; it is active within the soil surface. This method can also be applied to terrazzo and other natural stones, such as granite and marble etc.
Another non-negligible advantage of this method is that it is long-term economic changes as it replaces periodic flooring and perpetual and expensive cleaning products. One application of this lithium-based product does the work for a minimum of ten years. Our technique offers several options as needed. We can prepare the surface only, perform a basic polished concrete floors or buffing on a decorative concrete surface of your choice.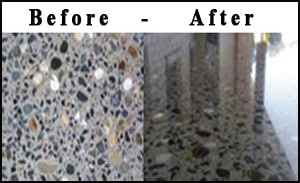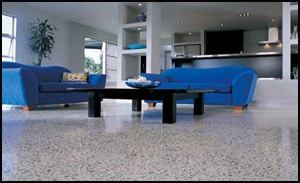 Our Highlighted Flooring Services
Need a floor preparation services? You come on right place!
ARTSTONE utilizes a world leading equipments and tooling which accomplishes at all times the most fulfilling results by grinding a level floor, treating the concrete surface, eliminating any type of adhesives or coatings which allows a good bond for the appropriate overlayments.