Services Overview
Concrete Grinding and Floor Preparation
Artstone utilizes a world leading equipments and tooling which accomplishes at all times the most fulfilling results by grinding a level floor, treating the concrete surface , eliminating any type of adhesives or coatings which allows a good bond for the appropriate overlayments. We hold both large commercial or small residential concrete grinding machineries that are proficient enough to accomplish a cost-effective solution in an efficient time with a minimal interference. Even if there is any high spots on your concrete floor , which usually results in an un safe workplace, we have the required tooling which are able to grind a level floor , as well as successfully eliminate any unsafe lippage. We also have another alternative to floor coverings. At all times we would be able to polish an existing concrete floor , using our unique process of polishing. This will definitely attain you a very hard-wearing, hygienic and low maintenance floors, which may either be appropriate for commercial and or residential site.
If you would like to find out more please do not hesitate to click through our Polished Concrete page to find out more information that you may require.
We have always delighted ourselves on quality work, dependability and competitiveness to ensure that all parties involved within the project are satisfied with the outcome at the end. At all times we clarify to our clients the steps of the job involved when restoring the surface to its original shine or state in a cost effective and satisfying manner.
Concrete Floors grinding and polishing
Introduction to Concrete Floor Polishing
Since the Roman Times concrete has been considered to be as a composition of stones and cement paste that use to get polished by hands. At present times demand for concrete floorings has been significant. Either for commercial, industrial or residential job. At Artestone we have developed an exclusive flooring system by using the worlds leadings equipment , concrete treatment products and Diamond tools.
At ARTSTONE we have innovated the Superfloor method based on our own knowledge and practices in polished concrete throughout many years. This particularly distinctive flooring system without a fail transforms your existing or new concrete floor into an exceedingly abrasive resistant, smooth and visually pleasing polished concrete floor. Superfloor is not just a surface coating or a floor covering merchandise, it is in fact a process of mechanical grinding, treating and polishing the concrete floor surface using superior expertise. Our clients usually get an opportunity to choose the level of gloss they desire from either honed satin, semi-gloss or a high gloss which usually produces a mirror like finish.
Customarily, concrete floors usually exposed to overlayments. Overpayment is the process when the floor has been covered by a number of different floor coverings, surface coatings and sealers. Usually the life-span of overlayment process tends to induce pricey installation, constant maintenance and eventual replacement costs. Superfloor considerably decreases the necessity for overlayments by converting the authentic accessible concrete into an economical, hard-wearing and low maintenance finished surface which is capable to endure the toughest of traffic whilst producing stunning visual appeal.
The Process
The Diamond polished concrete floor system consists of around 10 – 15 steps , which makes it extremely time consuming as you can tell . The main step when starting this process is to proceed to the initial grinding with the coarse 16-30 grit Diamond and finish this process with a 3000 grit Diamond. Those Diamonds get impregnated inside a metal or resin bonded segment. Once the first grind has been carried out the Diamonds grit size usually doubles up. It starts with the use of 16 or 30 size Diamond to 60-80 followed to 120 grit size Diamond.
Once those tasks are completed we proceed to the polishing process with a 50 grit size Diamond Resin Pad instead of a Metal Segment. While using the Resin Pads the sizes between the steps vary between 100, then 200, 400, 800, 1500 and finally 3000 grit. Throughout the whole process at all times we use a DENSIFIER which helps to harden the concrete surface as well as allows concrete to be polished. In addition a Grouting Chemical is also used which helps to fill any holes , cracks or imperfections that were exposed from the initial coarse grinding step . Finally the concrete gets sealed with the natural appeal look impregnating sealer which penetrates about 2-5 mm inside the pores of the concrete avoiding further deep staining from oils and or spills.
Grind and Seal Polished Concrete Flooring
Grind and Seal Polished Concrete Flooring System is considered to be as one of the core polished concrete systems . During this process concrete surface is grounded to the preferred level using coarse 16-30 grit metal bonded Diamonds. Once we achieve the proffered grind level we usually re – ground the surface with a 60 grit Diamond which eliminates any noticeable marking or scratching. In some cases Grouting and Patching may be required to be done , if there are any voids , holes or cracks visible. Once all those processes are completed we finalize our job by cleaning and preparing the surface for the application or preferred coating . Customers have an opportunity to choose from either gloss , matte or impregnating sealer.
ARTSTONE utilizes a broad variety of penetrating and film coat sealers that can be functioned to meet any requirements and design necessities from our clients. Out sealers vary from both traditional solvent based to the advanced water based and environmentally friendly one. It is important to note that choosing the right sealer is significantly important when completing the job. As different sealers may modify the look and feel of the final surface.
Also , please note that grinded and sealed polished concrete floors will necessitate stripping and re-sealing of the floors every 1-5 years . It all depends on the volume and nature of traffic, the chemicals used to sustain floors as well as the ongoing wear prevention strategies.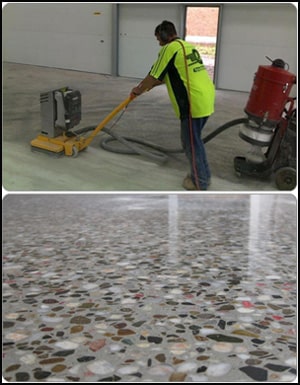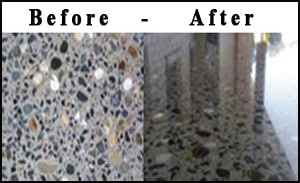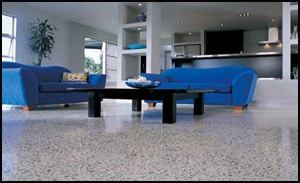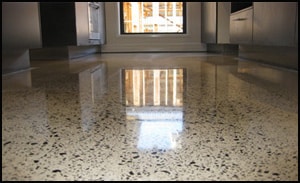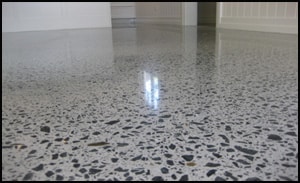 Need a floor preparation services? You come on right place!
ARTSTONE utilizes a world leading equipments and tooling which accomplishes at all times the most fulfilling results by grinding a level floor, treating the concrete surface, eliminating any type of adhesives or coatings which allows a good bond for the appropriate overlayments.